"Reef Keeping Basics - The Newsletter" Archive


Date Published
Issue




Sunday, September 11th, 2005
Volume 2, Issue #5

---

Sunday, December 12th, 2004
Volume 1, Issue #4

---

Monday, July 5th, 2004
Volume 1, Issue #3

---

Sunday, May 9th, 2004
Volume 1, Issue #2

---

Tuesday, March 2nd, 2004
Volume 1, Issue #1

---
---
You can get your own complimentary newsletter sent directly to your inbox! No longer worry
if you've missed the next issue . . . you'll get it direct!

As a Subscriber to our newsletter, you will AUTOMATICALLY be eligible to receive a 36%
Discount on our upcoming and informative publication!

So don't wait any longer - sign up and get your own personal newsletter.

Sign-up below:
"Reef Keeping Basics - The Newsletter"
A Newsletter For The Serious Reef Keeping and Saltwater Fish Hobbyist!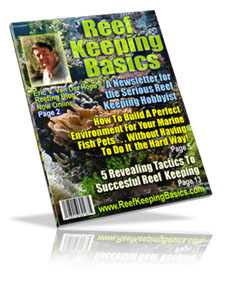 Newsletter Sign-up Form

Rest assured, that your email is 100% safe and
secure and will never be revealed to third parties
under any circumstances. You can also unsub-
scribe at anytime.
Privacy Promise:
We will never sell, never rent,
never exchange, trade or disclose your details to
any company or individual - Period!
If you have comments, thoughts or questions,
do not hesitate to contact me at the following:
Email Me By Clicking Here
.
If you need a hand with anything, just email me at the following address: Press here for email
support I'll be glad to help out. I hope our paths will cross some time in the future! Thanks for
stopping by.

Why not email me and introduce yourself? Do you have questions about Saltwater Fish
Keeping . . . ? Do you just want to say 'hi' or tell me something about yourself? I can't wait
to hear from you! :-) So email me . . . !